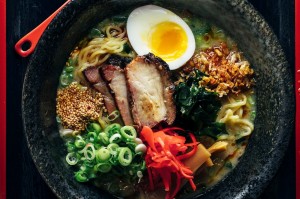 Join us at the kitchen with the international recognized chef " Kazoo"
Learn the essentials of Japanese cooking.
Japanese cuisine is a sophisticated affair, where the aesthetics of the final dish are as important as its taste.
The varieties of ramen are as endless as your imagination so spend this one-day class learning more about authentic ramen preparation and try your hand at creating a few dishes with hands-on guidance from our chef.
You will learn how to create ramen noodles from scratch, in all hands on cooking class, also how to pair with different ingredients, a bold class for anyone who wish to learn the basics of cooking  soups and sauces.
Chef Kazuhira Hishida was one of the Top 10 chefs in America ,with his experience you will also learn knife skills, a demanded skill for every home cook, followed by a small reception to enjoy your creations at the end of the class.
Friday May 6
At 6 PM 
At Conexión Américas commercial kitchen Mesa Komal.
$ 40 per person.
¡SOLD OUT!
¡THANK YOU FOR THE SUPPORT, MORE EVENTS COMING UP SOON!
FOR MORE INFORMATION CALL : 615 320 5152
Are you ready to gather with some friend and enjoy a fun class where you will learn how to make homemade beer and BBQ?
This class is for you!
Join Chef Zack Jenkins, Co-owner of Electric Sliders Food Truck, to learn from his passion for beer and BBQ.
You will learn to make BBQ rubs and sauces and taste your creations with BBQ chicken and pork. Enjoy a variety of sample BBQ bites along with handcrafted beer demonstration and tasting.
Please join us!
Friday, March 11, 2016 | 6 PM-8 PM | Buy Tickets
Mesa Komal, a program of Conexión Américas.
Questions? Contact Rosa Martha Mulanax, Culinary Incubator Manager at 615-835-2509 or via email at rosa.martha@conamericas.com